If you're looking for a great new family vehicle or SUV, you may have pondered purchasing one of two vehicles: the 2018 Land Rover Range Rover Velar and the 2018 BMW X5. These vehicles offer much for drivers with features such as available technology packages and performance capabilities. 
Discover how the 2018 Land Rover Range Rover Velar stacks up against the 2018 BMW X5.
Luxury & Convenience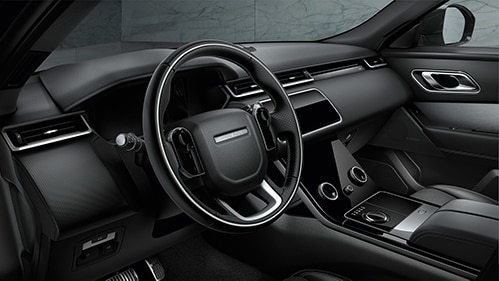 At first glance, both vehicles in this comparison seem to be on equal ground with information display and control technology. Touch-screen infotainment systems with built-in Bluetooth and onboard navigation aren't new these days. Take a closer look, though, and you'll notice that the Land Rover Range Rover Velar includes two fully functional 10-inch touch-screen displays. These features offer double the information and double the control over systems such as climate control and media playback.
In addition, the Land Rover Range Rover Velar offers more driver-specific details through the use of the vehicle's dynamic instrument panel display and windshield-projected heads-up display. While these features also exist on the BMW X5, they work well with the Range Rover's two other displays, providing a highly dynamic experience for the driver behind the wheel.
Fuel Economy
In terms of fuel economy, the Land Rover Range Rover Velar outperforms the BMW X5. On city streets, the BMW X5 gets 18 mpg while the Land Rover Range Rover Velar gets up to 21 mpg. On highways, the BMW X5 can get up to 25 mpg while the Velar gets up to 27 mpg. 
The BMW X5 has a significantly larger fuel tank and can hold up to 22 gallons at a time. In comparison, the Land Rover Range Rover Velar is limited to only 16 gallons. This tradeoff is minor, though, when you consider how you'll ultimately spend less money refueling at the pump with the Land Rover Range Rover Velar.
Safety & Security
For families concerned with the safety of children and other passengers, both vehicles perform equally well. You'll find LATCH systems in the rear seats specifically designed to make rides safer for children in safety seats, child safety locks, and passenger curtain airbags. When you consider forms of safety technology, both vehicles sport their own well-implemented versions of lane-change assistance, automatic emergency braking, and intelligent cruise control systems to make long road trips safer. You'll also have options for rear-view cameras and a 360-degree bird's-eye-view camera on both the Land Rover Range Rover Velar and the BMW X5.
While both vehicles are among the best SUVs on the market today, the Land Rover Range Rover Velar includes a few subtle improvements on existing technology, safety and security, and performance that help to make it desirable for anyone struggling to decide between the two. 
Land Rover Gwinnett invites you to explore the features above and more present in the 2018 Land Rover Range Rover Velar. Let our professional sales team help you discover what awaits you behind the wheel of this vehicle.
Make an Inquiry
Get Directions